Surfrider Foundation
The Surfrider Foundation is a non-profit environmental organization dedicated to the protection and enjoyment of the world's oceans, waves and beaches for all people, through conservation, activism, research and education.
Sierra Club
The Sierra Club's members are more than 700,000 of your friends and neighbors. Inspired by nature, we work together to protect our communities and the planet. The Club is America's oldest, largest and most influential grassroots environmental organization. The beach clean-ups are held regularly and are a natural for us!
Surf industry Manufacturers Association - Waterman's Weekend 2005


August 27 it was the weekend of the Waterman's Ball, an annual event from SIMA.
It is a very important event in the Surf Industry that happened at the St. Regis Hotel here in Dana Point, Orange County. Mike Bless (pictured below) was invited to have his art there for the auction. He believes so strongly in this organizaion's mission that he donated a table and a board wtih custom metal rack for display. All the money from the auction goes to environmental activities.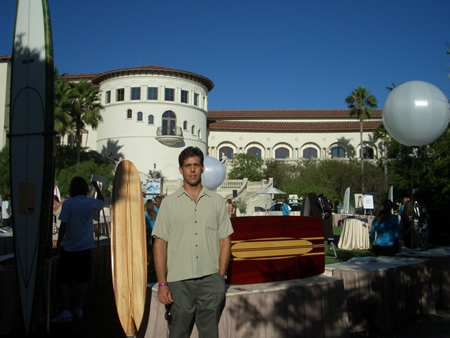 Volunteering is not only about money -- it's about time.
We enjoy jumping in to help these organizations at special events throughout the year. I don't know who benefits more -- us or them.
Anyone can make a difference -- it just takes a little time and a lot of heart.